Live Admin - Standalone
Live Admin standalone is the same software we are using to serve hosted based chat service with some modifications. It's now available for download. So you can install it on your own hosting server and use it.
There are two registration licenses for standalone version of Live Admin:
Single Site Installation License
This is the common license you need to register the Live Admin. As titled, this type of license works only for your unique site key and can not activate any other installation of Live Admin. This license is available at the Live Admin License Registration page for a one time fee of $99.90

Multi Site Unlimited Installation License
For those who want to install Live Admin on several web sites or servers this license provides ability for activation of unlimited Live Admin installations. However license will still remain under your name and you are not allowed to rent or share it with any other person or organization in any digital or media form. This license can be purchased from Live Admin License Registration page for a one time fee of $490.90
Here is how the Standalone or Lite version works: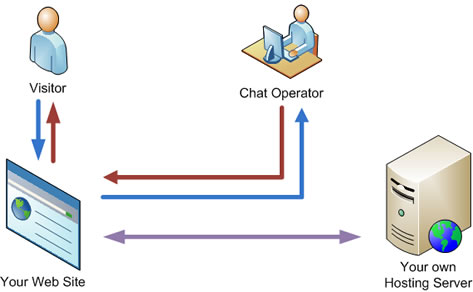 Both licenses come with unlimited update or upgrade to further versions of Live Admin.
There are two types of downloadable packages:
Full Live Admin Standalone Package
This file is quite large, there is a data file in this package which helps Live Admin processes to determine geographical locations of visitors. If you don't need the location of visitors you may download and install the NoGeo package.

Live Admin NoGeo package
This file does not have the geographical database and is much smaller than full version. All other functionalities are identical to full package.
Packages are available for download at
Live Admin Download
page.
Minimum requirements
PHP 5.1.0 or later
One MySQL Database (Required MySQL 4.x or later)
PHP compiled with UTF-8 Encoder
PHP compiled with MySQL Extension
PHP compiled with FTP functions (or upgrade will not work)
PHP compiled with cURL functions (or news and upgrade will not work)
PHP configured with register_globals OFF
PHP configured with safe_mode disabled
Server can connect to LiveAdmin server to get latest news and updates
Simple installation steps
Download the package from Live Admin Download page.
Extract to a local folder
Upload the liveadmin folder to your site
Point a browser to where you've uploaded the file and follow the instructions.
To install status indicator (chat button)
Point a browser to liveadmin installation on your site and login to Admin Panel
Click on Configuration button
Click on Installation Instructions and follow them to insert codes into your pages
To register and activate the Live Admin
Point a browser to liveadmin installation on your site and login to Admin Panel
When Live Admin is not registered (i.e. a fresh installation) you will see a button titled 'Register Now', Click on it and save or copy the site key.
Click on the link provided in that screen or Here, then key in or paste the site key and other required information. Select the payment method and complete the transaction.
You will receive the Registration Code by email. Copy/Paste it into the dialog you've opened at step #2 and submit.
Logout and login to make sure registration code applied properly.
To update the Live Admin to latest version
When a new version published you will get a notification in Admin panel when logging in. Click on 'Yes' button.
Most of PHP installations do not allow PHP process to write to ordinary files. Therefore Live Admin uses FTP to update itself. Provide FTP login information of your hosting account and fill all fields. Update process will inform you if any parameter is not correct.
Continue the process and Live Admin will be updated automatically.
Logout and login to make sure new updates applied properly